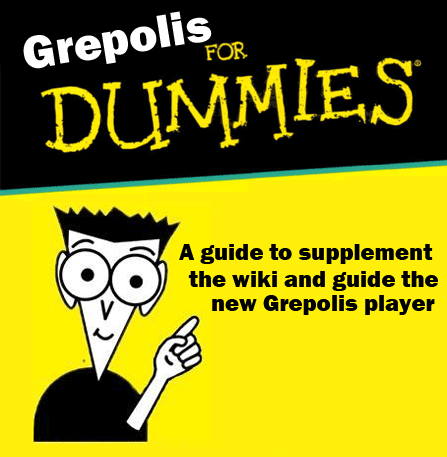 Game Basics
Before you get started, you should know a few basic things about Grepolis. This information will be useful as you are starting up as well as after you have gained multiple cities. However, this is
not
intended to be everything in Grepolis. You can find more information on the wiki.
Types of Worlds
Right now, there are two main setting differences for a world. A world can be either Revolt, or it can be Conquest.
Conquest: In a conquest world, you have to send an attack with a Colony Ship to a city and have it land successfully, without the Colony Ship dying. Now, a timer starts where you have to defend the city you landed the CS in. The timer is 24 hours divided by the world speed. In this time, the enemy will have time to attack his city in an attempt to destroy the Colony Ship. It will be destroyed if either all land troops are destroyed, or all naval defenses are destroyed. If you successfully hold the CS in the harbor for the allotted time, you conquer the city. For more information, please view the
Conquest
section of the wiki.
Revolt: Revolt worlds are a bit simpler. The first step is to launch a revolt attack at another city. If it hits and lives, a revolt timer will be added to the city. The timer lasts 12 hours. After this timer ends, you have 12 hours to have another Colony Ship attack successfully land at the city. If it does, the city is immediately conquered. For more information, please view the
Revolt
section of the wiki.
Types of Units
There are two types, land, and naval. Land troops tend to be the second wave of forces that attack another city. This is because they are vulnerable to any leftover naval defenses left in the defending player's harbor. Even with a naval escort, they will still die quickly in this situation.
There a many types of basic land troops. Each one has its own damage type strengths and weaknesses. The three damage/defense types are Sharp, Blunt, and Distance. Each Offensive unit is weak against its respective strength :
Offensive
Hoplites: Costs a lot of stone and silver. Uses one population. Has a sharp attack, and is also weak against distance heavy attacks. These are also somewhat decent for defending against blunt attacks, although not quite as good as the chariots
Slingers: Costs mainly stone with less wood and silver. Uses one population. Has a distance attack and is weak against distance heavy attacks. These are quick to build and use less resources than the other offensive troops. They get used quite often in battle. Do not ever use these for defense.
Horsemen: Costs more silver than the other resources, but the resources used is more balanced than the other troops. These use up three population spaces. They also have quite a long build time. However they also have the strongest attack/population. They are also very good at farming player villages, as they can carry a lot of resources. These have a blunt attack but have an extremely poor defense against sharp heavy attacks. Do not ever use these for defense.
Catapults: Very expensive, very slow, but they knock down walls. A few of these can be nice to soften up the target cities before taking it. However, they tend to be used more often in Revolt worlds, because in conquest worlds, you still need to defense the city for a time period. More on world types will be covered later.
Defensive
Swordsmen: These are the basic troops you get when you start a new world. They are very good at defending against distance attacks, but are weak against sharp heavy attacks. They use only wood and silver to be built. So you will have a lot of stone leftover when building many of them. Do not ever use these for attack.
Archers: These also do not use any stone to make, however, they are a bit wood heavy. They excel in defending against sharp attacks, but are weak against blunt heavy attacks. These are also decent farmers, however, do not use them for this purpose unless you know the city is clear. Otherwise, as a rule, don't use these for attacking.
Chariots: These are more expensive troops, comparable to the horsemen. However, unlike horsemen, they are great for defence and decent for attack. In defense, they are strong against blunt heavy attacks but are weak against sharp attacks. In attack, they use sharp.
You should build a mixture of each of these troops and ships depending on your designated city type, which is covered in the next section.
Naval Units
– Unlike land units, you do not need to deal with different damage types.
Light Ships: The offensive workhorse of any alliance. These are the best naval unit to attack with. In Conquest worlds, these are also used for sniping, as well as defense in a sense. Because any transports in an attack are easily killed by naval defenses (other than fire ships), these should
always
be the first wave of attacks.
Biremes: These are the primary naval defensive unit. Whether defending yourself or defending your conquest, they won't let you down.
Fire Ships: These are a very interesting defensive unit. Instead of having a base defense value, they will destroy attacking ships on a 1:1 ratio. This only happens after all Lightships/Biremes are destroyed. However, Colony ships, Transports, and Fast Transports will pass right through unharmed. Because of this, combined with their extremely slow speed, they are rarely ever used.
Triremes: The jack-of-all-trades, master of none. These have a decent attack and a decent defense power. However, they take up more population and are outclassed by dedicated Bireme and Light Ship cities.
Transports: These are the basic naval unit you can use just after building the harbor. They carry your troops to attack or defend cities on other islands. They are quite slow however, only the Colony ship is slower. Therefore, it is easier for your target to figure out if an attack is purely land or not. Because of this, Transports tend to be replaced by Fast Transports when possible.
Fast Transports: The most common type of transport to to be used. When used with Lightships or Biremes, they will travel at the escort speed. Sent alone, they will move faster than the normal Transports. However, the tradeoff is they carry less troops per pop space the fast transport takes up.
Colony Ship: These are used to conquer cities or put them into revolt. They are slow, which makes it obvious what is in the attack if your target is online. So bear this in mind when trying to take a city.
City Specialization
First City: This city cannot really be specialized. You will need to have a bit of everything to defend yourself, your alliance, attack others, and take your first city.
Light Ship: As the name suggests, this is pure light ships. You can demolish buildings that are not useful here, such as the wall and barracks, to allow yourself more room for ships.
Bireme: Just like the light ship city, except with Biremes.
Land Nuke: These should consist of your offensive land troops, transports/fast transports, and a light ship escort. A decent escort is about 35 light ships or so. As for land troop composition. An even build with equal parts of each troops in population tends to work well. However slinger nukes are great for quickly building nukes.
Defense "Nuke": These should consist of transports/fast transports and your defensive troops.
The following wiki pages are also worth reading
The Battle System
Last edited by a moderator: