We all want to be good players right? Right. So let's start by being good attackers. After all, it is a war game!
First, we look at what another alliance thinks of it...
[spr]
[/spr]
Looks like the
requirements
are:
1.
Be self-sufficient.
2.
Aggressively pursue expansion.
Now let's check a player who is considered to be a "fighter" and see how they meet the requirements...
[spr]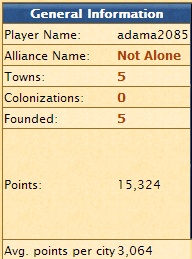 [/spr]
Well for starters, 5 founded cities shows some real self-sufficiency! Requirement 1 fulfilled.
[spr]

[/spr]
Now, as you an see, this player is obviously an aggressive expansionist. Their archers' arrows rain down terror from the sky. Requirement 2 fulfilled.
So as you can tell, the definition of a fighter has been set: found as many cities as possible and attack with swordsmen/archers/envoys to decimate your enemies. I hope many can learn to be adequate fighters through this example.