Updated Ground Units Info for grep 2.75 on a per pop basis.
I used the numbers that were in game and the numbers from the 2.75 changelog not numbers from the wiki or anywhere else. There are different numbers in other places I just assume the actual game to be more accurate however because some decimals were too long, and I didn't round anything just cut decimals short where need be this guide is not 100 percent accurate, and rounding some of the numbers perhaps could have been a better representation of the guide, but I chose not to go that route.
If each Unit only costed 1 pop each this is about what they would look like.
This info can be used to see units for what they actually are
for instance it is a common misconception that manti's are more powerful than griffins until you break them down into per pop units than
you than notice the griffin is the stronger unit per pop. As in a fully built nuke of griffins will hit harder than a fully built nuke of manti's.
I decided on what colors to assign numbers based on how those numbers do against the normal units of that class. Normal units are by far the most often used units at the time of writing this so I believe they set the standards.
*I discuss flyers in a later post.
TD
= Total Defense per pop
Blue
= Top of Class Rating
Light Blue
= Second of Class rating
Orange = These units behind a level 20 wall provide almost even ratios, would not use them without a wall though otherwise you are just giving away Battle Points, and in some cases like the griffin being able to get an even ratio on Hops with a 20 wall I would recommend attacking with griffins instead of blocking with them.
Red
= Worst of class rating.
1 thing I forgot was to put the type of attack in the attack number box, if I find some free time I will update it, but overall it's not a big deal. This chart makes a great unit reference sheet. The smaller pictures in top defenders is intentional. It is a reminder that without wall the ratio is even or under even against the normal unit of the class.
This chart is expected to have mistakes I spent alot of time transferring data and it's easy to make mistakes after staring at numbers all day. I will continually fix found flaws when I have free time. All feedback is welcome.
Update: fixed top attackers slingers belonged above harpies and minotaurs numbers wise.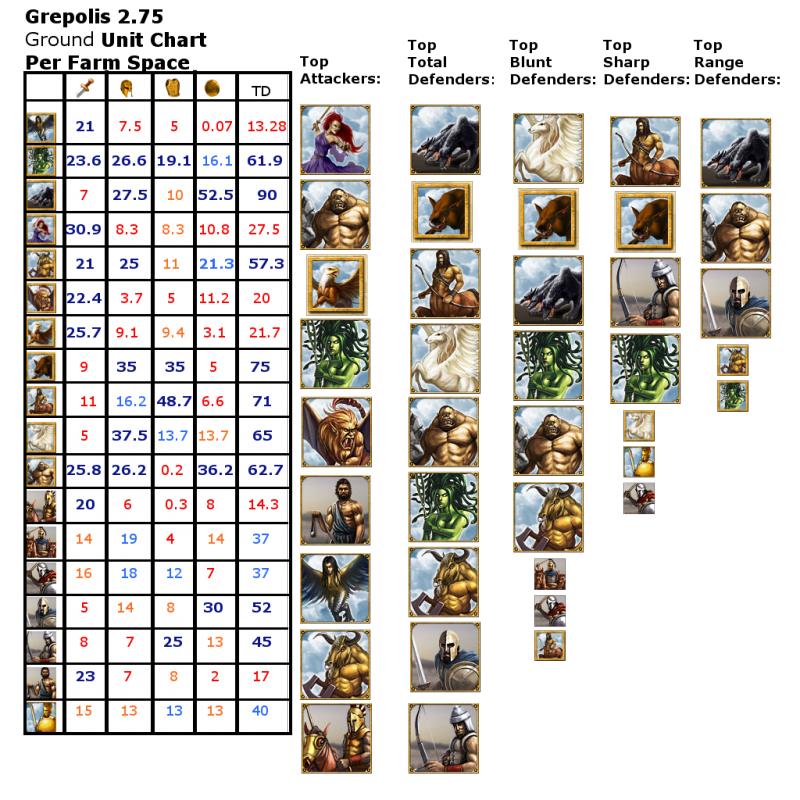 Last edited by a moderator: