Well, here we go! Prepare yourself for issue #1. This one will be smaller than most, due to not having much time to prepare this. But, it's still good and non-biased!

______________________________________________
WOLVERINES… The Best Alliance Ever
B
y Nights Warrior/Chartis
Example #1
of their amazingness: black armenian Devil
The formerly ranked #2 player in the world was rimmed by AweShock, because he was just that good. In his main city, he had some 60 some LS, along with 600 some slingers. In his other cities he had: absolutely nothing. Talk about skill, this guy only built troops in one city, where he learned this amazing strategy is still unknown. Anyways, he was first revolted in his 4th city. His alliance responded by sending all the support they had to that city, an impressive 200 swords and 200 archers, what an amazing group effort
So after we took his main city, and his third city, we cleared his second and fourth city. Sadly, the second city was taken by someone else after we did all the clearing, but we wiped his 4th city and conquered it, because we're just that good.
Example #2
of their amazingness: How their members support the leadership.

This is just one of many members realizing how amazing WOLVERINES are. This isn't even mentioning how the leaders support their leadership, one of their leaders left just a few days ago.
Example #3
of their amazingness: Their conquests according to grepostats.
Even grepostats agree that WOLVERINES are the best alliance on the server, with these startling statistics.
http://www.us.grepostats.com/world/us10/alliance/66/colonizations?type=lose&enemy_alliance=91&min_points=&max_points=&page=0
An amazing loss of 32 cities, can any other alliance boost that many lost cities? I think not.
Now I know what you're thinking. What about those amazing, good-looking AweShock guys? How many WOLVERINES' cities have they taken?
The answer.
This concludes our article on the best alliance on the server.
______________________________________________
The Amazing Opportunities of Skype Communication!
By Beast
As we all know, Skype is a great tool for active alliances to use. You can communicate, plan, and chat very easily on there. AweShock uses Skype to it's best. We are probably the most advanced Skype commuters on Grepolis. We plan things down to the smallest details, are serious, and never EVER spam.
Here's a fine example of our discipline, taken straight from a council chat:
http://i1086.photobucket.com/albums...t2013-05-08at62420PM_zpsc3edc88a.png~original
As you can see, we are VERY organized and serious on Skype. Now, I'm guessing that most of you other alliances can't be
nearly
as disciplined as that!
______________________________________________
Map of The Best Alliances
By Beast
Whoops! Silly me! I forgot to add the other best alliances into the map!
Here,
this
is more like it.
______________________________________________
A Rap of Unlimited Truth
By Sher e Punjab
Dancing crows, the ocean flows
Ships set sail as the winds blow
Zues's breath, sink your biremes to death
Waltz into your city with no walls left
Team Aweshock's Catapults, fire burning rocks
You logged on and got blown out your socks
Join Carpe Diem and Wolverines
At the graveyard of our devilish schemes.
______________________________________________
A Very Non-Biased Review on the Top 5 ABP Alliances
By Beast
1 ASSASSIN ELITE 187340 - SUCKS
2 AweShock 182766 - OH YEAH BABY!
3 Swamp Fox Brigade 164623 - PRETTY GOOD
4 Devil Bar And Grill 108717 - SUCKS
5 Pax Britannica Warriors 78911 - SUCKS
______________________________________________
An Everyday Op
By Sher e Punjab
There were filthy oppressors endangering our Swampness in Dagobah.

So AweShock banded together and evicted these people from our lands in honour of the swamp.

Pink Stuffer as neighbour of the swamp, got stuffed by Heavy1
Many came to evacuate the his city of all lifeforms and paint the walls red.

More westbound you shall see another fearsome creature The Berglemonster, an unimaginable destructive creature, He decided to barbecue the sounder of swines that inhabited what was formerly balla ville.

Last but not least there was a mighty fire breathing DragonGuardian lurking in the Winged Fortress.
Brave knights sailed out to slay his mighty dragon, through the hottest fires, now the winged fortress is no more..

Who knows where the warriors of AweShock will go for their next epic quest!?
______________________________________________
How To Keep Forums ORGANIZED
By Beast
You probably have wondered to yourself "How does AweShock stay so awesome and perfect?". Well, the answer is: Our forums. We keep them nice and organized, not cluttered. Here is a fine example: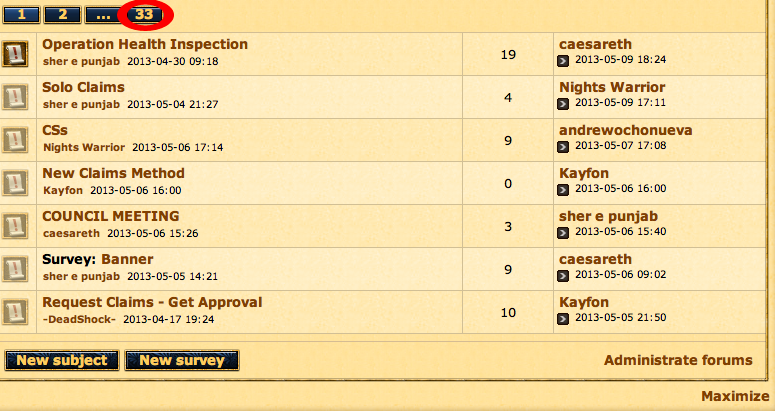 See? Keeping it easy for members to read through is the key!
______________________________________________
​
Well, if you liked that newspaper, then you are sane. If not, you are obviously mentally unstable. Look out for Issue 2 next Friday! Thanks!
Last edited by a moderator: